Alpine Sunrise Goatoga
Saturdays - please call for class time - usually 9:00 a.m.
Space is limited, call to reserve your spot 619-722-4069.
794 South Grade Road
Alpine, Ca 91901
---
---
Come experience what everyone is talking about!!!
Can Accomodate groups up to 25 for Team Building, Bonding, Birthday Parties, etc.
Call in advance to make reservations!!
One time $25 Membership Fee, includes membership gift!
$10 per session after $25 Membership Fee. Add mimosas for only $5 more.
About: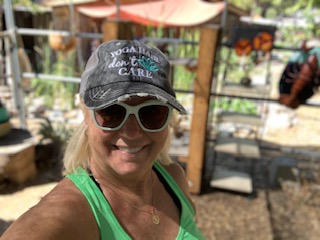 I wish I could say it was my idea coming up with the idea of Goat Yoga, but it wasn't. I heard it originated on a farm and became popular somewhere in the Midwest. The most common question I get asked is why goat yoga? The best response I have is that it is an experience you just have to come and try it!
Alpine Sunrise Goatoga takes place on my property in Alpine, California, where I have a beautiful view of Viejas Mountain while you do Goatoga.
I retired after a 35 year career in Human Resources with San Diego Transit/MTS, and have goats for pets. My partner/Sherpa, Louie convinced me this is something we should do and I wouldn't be doing it without his support and encouragement. He is the Sherpa/Parking Attendant/Water Boy/Security. He wears many hats and wears them well!!